Dates for 2018     
 June 21-29
Register and pay before February and get $10 off per student!
Registration forms can be mailed to Flood Philly P.O Box 489 Dublin, PA 18917
Cost:
Cost includes all materials: 5 Gospel object lessons,  6 t-shirts, 9 dinners, and 3 lunches
Teen with group (If you have driver) $170
Individual (no group) $250
Email cefbucksmont@gmail.com or call 215-589-8808 if you would like to register yourself or a team.
Matthew 5:14-16
"You are the light of the world. A city that is set on a hill cannot be hidden. Nor do they light a lamp and put it under a basket, but on a lampstand, and it gives light to all who are in the house. Let your light so shine before men, that they may see your good works and glorify your Father in heaven."
 
Overview
There are 200,000 children in Philly and 500,000 including the surrounding area. Almost half of the kids in the state live in the Philly area.  Every summer CEF is leading the area to bring together hundreds of people to train and reach 5000+ children!!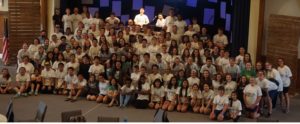 Description
Join CEF in reaching thousands of children in one week here in the Philly area.  Make an Impact locally in 2017!
Come and train with us for 4 days and then dedicate 1 week to doing 3 clubs a day! Gather each night for a time of worship, spiritual challenge and fun!
General Information
Training will be held locally. If you are out of the area, you will sleep in a church or school in the area.
includes teaching materials, magic tricks/object lessons, 6 shirts, 9 dinners, 3 lunches and snacks for nine days.
Come see how God can use you…

 Training and evenings are held at Crossing Community Church (80 Silver Lake Rd. Newtown, PA).
Housing is provided for no additional charge! 
Ministry is held in various locations in Philadelphia.
 Flood Philly 

– Click this link to like us on Facebook 
Instagram

– Click this link to see photos from Instagram