JAM
May 2018
The purpose of JAM (Junior High Adventures in Ministry) is to glorify God by equipping ministry level Jr. High students to serve Jesus Christ by providing them with excellent training and "hands-on" ministry experience.
Our Assumptions
We believe that God can use Jr. High students NOW as well as in the future! We give each student the opportunity to share his faith personally with a child through the Kids' Day Outreach.

We believe that the students will learn more by DOING. Jam's focus is on "Hands On" learning. This experience translates into life change!

Ministry Partnerships please God. Jam facilitates partnerships between ministries for the glory of God.

Ministry is a great GROUP BUILDER! One of the best ways for you to build unity in your youth group is to minister together. We design the program to facilitate this.

What the Teens Get To Do…

On Saturday, Jr. High students will put on an outreach for children! The outreach is designed to allow students to spend time with kids. Past activities included: A team of Skaters, Giant Inflatable Sliding Board and Obstacle Course, Petting Zoo, Bingo, Stuffed Animal Give-Away, Double-Dutch, Basketball Knock-Out, Crafts, Chalk Art, Puppets, free lunch and more!
Each student will have the opportunity to personally share his/her faith with a child. through use of the "Power Band" or the "Flipper-Flapper." Our goal is that every child who comes will have the Gospel explained to him/her person to person and one-on-one. This mission is the focus of our weekend.
For More Information on Cost, Registration, and Schedule –

Click Here!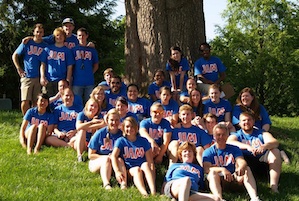 Every individual who participated in the event was impacted in some way; from the Cairn students who led the event, to the volunteers from PNC Bank who came to help with lunch; from the bus drivers from Yellowbird Bus Co., to the Youth Leaders;  from the leaders of the children's ministries, to the members of the worship band.
Photos and stories about the event can be found on the J.A.M. page on Facebook.